Introduction
Desktop publishing (abbreviated DTP) is the creation of documents using page layout skills on a personal computer. Desktop publishing software can generate layouts and produce typographic quality text and images comparable to traditional typography and printing.
This technology allows individuals, businesses, and other organizations to self-publish a wide range of printed matter. Desktop publishing is also the main reference for digital typography. When used skillfully, desktop publishing allows the user to produce a wide variety of materials, from menus to magazines and books, without the expense of commercial printing.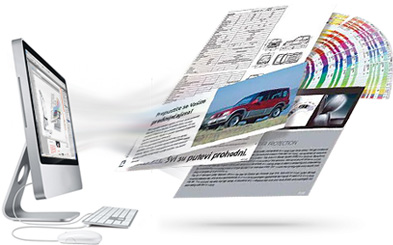 Our highly specialized DTP department offers first-rate services in the area of pre-print preparations and the graphic treatment of multi-language documents.
Our DTP Services
(1) Formatting and layout of localized materials matching the original, complying with target-language standards
(2) Creating and editing graphics and screenshots (generic graphics, screen captures, illustrations, and diagrams)
(3) Working with markup languages such as HTML, SGML, XML as well as online documentation formats such as Acrobat PDF and various others
(4) Converting/generating the output of translated material in multiple formats (creating PostScript files and PDF files)
(5) Post–DTP QA checks (content check)
We can handle everything from DTP for documentation, to graphics localization of software and multimedia projects.

Graphics and DTP Software Capabilities
We work on both Mac and Windows and employ state-of-the-art multilingual graphics and publishing software including:
InDesign
QuarkXPress
Frame maker
PageMaker
Illustrator
Photoshop
CorelDraw
Word
Excel
PowerPoint
Publisher